Enrolments
How to enrol with Sew Teach Me
To commence Your Journey with Sew Teach Me is easy. Simply complete the online form below.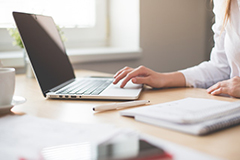 We will then reply to your online submission to confirm:
Position availability on your chosen course
An invoice for payment
Details of payment methods
Full Terms and Conditions
Before enrolling, I have a question … Ask April
Regarding COVID-19:
Please note that Sew Teach Me conducts courses in accordance with Qld Health Directives.
Payment and Confirmation:
Payment can be made by either Direct Deposit by transferring funds into a bank account or by Credit Card.
Please Note:
Deposits / instalment payments can only be made by Direct Deposit.
Full payments can be either Direct Deposit into the bank account or by Credit Card.
Your position on the course will be confirmed by email once we have received the full payment of the course fee.
Your payment (part or full) confirms your acceptance of the Terms and Conditions.
To order a gift certificate, click on the link below and provide the following information in the email:
The Course you wish to purchase in full or;
Any amount of your choice (above $50)
The Person's Name (first and family name) the gift is for.
We will send you an invoice and payment instructions.
Once full payment has been received, the Gift Certificate will be emailed to you, so you can present the gift to the lucky person.
The recipient can then enrol online, selecting the course and/or date that suits them.
Click on this link: Purchase Gift Certificate now
Sew Teach Me conducts all it's sewing classes in beautiful modern facilities within the North Lakes Community Centre located on Level 2 in the North Lakes Library building.
The library is located on the corner of 10 The Corso and Endeavour Boulevard, North Lakes.
Off street / under cover parking is available within the building complex. Car entrance via Endeavour Blvd.