Level 1: Let's Get Started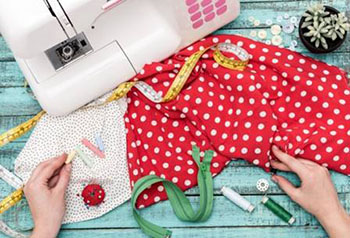 Beginner Sewing. These sewing courses are designed for those who have never sewn before or those who wish to revisit sewing and learn the basic fundamentals again.
You will learn to take correct measurements to make the garment to the your size, lay up and cut the fabric correctly, use a sewing machine and how to solve common sewing problems.
You will be provided with instructions and materials to start sewing. We also provide sewing machines, overlockers and basic sewing tools for you to use. How easy is that!
If you would like to get to know how your machine works you are welcome to bring your own machine, but you do need to bring the manual for the machine.
101 Introduction to Sewing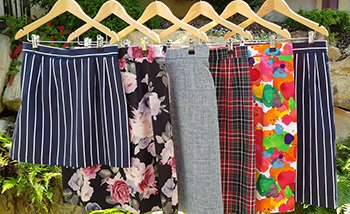 During this sewing class you will make a skirt where you will learn the basics of sewing while making a garment to your size.
You will learn how to:
Sew and press darts
Finish raw edges with an overlocker
Insert an invisible zipper
Sew a waistband
Finish a hem with a mitred corners and vent
Complete perfect button and button holes
We provide all the sewing equipment and sewing machines for you to use.
The fabric and notions (zippers, threads, etc) will be supplied for your first skirt.
In this class you will have time to complete a second skirt. You will need to purchase the fabric and accessories.
Check out when this course is available.
Duration: 4 Sessions x 3 hours
Cost: $245
Testimonials:
"Absolutely loved it, can't wait for the next one. I have learnt so much. Thank you."  (Karen D. May 2018)
"April explains everything very well and has lots of tips and tricks to make the process easier. I learnt a lot from the classes and it gave me the confidence to tackle my own sewing projects."  (Victoria F.  Feb 2019)
"Excellent Course. Size of class was perfect as it enabled us all to have 1 on 1 from April on a regular basis. Would highly recommend the course to anyone & have been doing to friends. I'm looking forward to 102. Thanks April for your help and patience."  (Karen L. Sept 2019) 
"Thank you so much April. Learning new techniques has been eye opening. Greatly appreciated."  (Evelyn S. Aug 2020)
"April, this course was wonderful. So much more fun & informative than expected. Thank you so much."  (Catherine C. Nov 2020)
102 Develop Your Sewing Techniques
During this sewing class you will lean how to sew components that go together to give your garments a professional finish.
You will learn how to sew:
Different seam finishes and where to use them
Pockets
Darts
A lap and fly zip
Perfect gathering
A set in sleeve
Binding
Quick and easy elastic casings
Openings with facings
At the end of the class you will have a portfolio of samples with detailed instructions to guide you through most sewing projects.
All materials and notions are supplied for this class.
Check out when this course is available.
Duration: 4 Sessions x 3 hours
Cost: $245
Testimonials:
"April once again taught us clearly how to complete the different techniques to sew my own clothes."  (Shannon C.  Sept. 2018)
"April has a great balance of teaching / instruction & understanding of student's abilities / demonstration etc … She's exceptionally organised"  (Joanne P. June 2019)
"What a fun and informative course! I now feel ready to tackle more challenging projects!! "  (Steph C.  Aug. 2019)
103 Teach Me Quick!
Want to design your own style or recreate your favourite outfit ?
This 'quick' short course will show you how to design an item of clothing, make a pattern to fit you, cut out your own pattern in your fabric and sew it up. You will see the fashion design process in action.
This is a great class for a budding fashion designer or sewer who knows what they want but are unable to find.  Ideal if you have a favourite skirt, shorts, top or dress you would like to make a pattern from and make in your own fabric.
Ideally, you would have completed the 101 and/or 102 course or have some sewing experience and understand garment details.
You will learn:
Sketch your design
Trace a pattern from an existing garment
Lay up your pattern and cut out in fabric
Develop an order of assembly to sew your garment
Sew a garment you will be proud to wear
Equipment, patterns and paper are supplied.
You will need to supply your own fabric and notions (zipper, threads, buttons etc.) for your outfit in the second session.
Check out when this course is available.
Duration: 3 Sessions x 3 hours
Cost: $195
104 Rescue Me!
Do you have a pile of clothes which need mending?
Rescue Me! is the course for you.
Save money and become sustainable. Bring all your repairs along and make your clothes wearable again.
This course is also suitable for those who have become stuck on unfinished projects.
All you need to bring along your mending or unfinished project that need to be rescued!
This course is conducted combined with the 201 Sew What You Want class.
Check out when this course is available.
Duration: 4 Sessions x 3 hours
Cost: $195